We specialize in the Remanufacture / Repair of all major brands of Hydraulic Rock Breakers and Hammers:
Allied / Rammer, Atlas Copco / Krupp, BTI / Teledyne, CP / Krupp, Caterpillar, Huskie, Indeco, Kent / Furwakawa, Magnum, NPK,
Okada, Rammer, Rock-Blaster, Rock-Ram, Soosan, Stanley, Technology (T&H), Teledyne, Toku, Tramac / Montabert, as well as many others.
Please contact us for further details and all your Breakers/Hammer repair needs.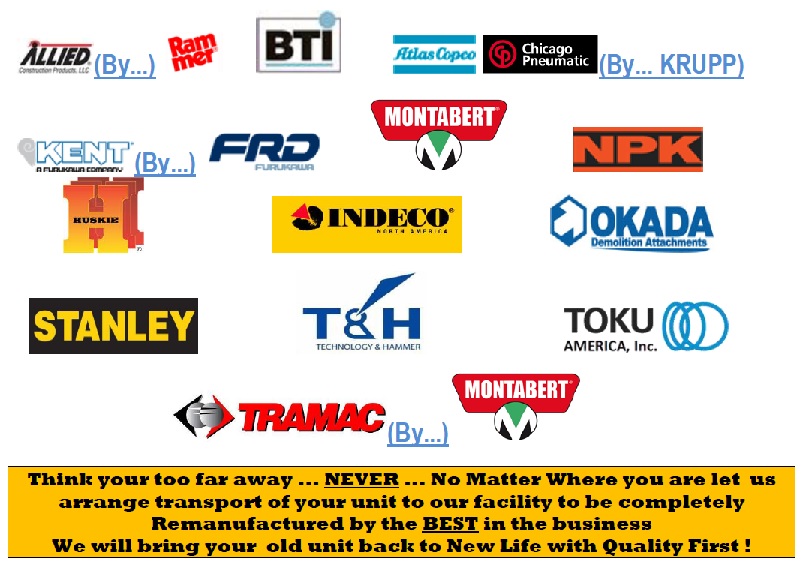 Salem Hydraulics Co. strives on the use of ONLY Quality parts to bring your remanufactured/ repaired breaker back to its original OEM specifications. Each Remanufactured unit is or has been tested and is covered with UNMATCHED WARRANTIES and we are available to insure your machine and breaker is properly set to the required specification to protect you and your investment. Salem Hydraulics HAS the Knowledge & Experience you have come to Trust and put Faith in.
We can take on any of your Hydraulic Hammer & Breaker challenges.
Apart from our new sales, remanufacturing and repairing units, we also offer a variety of Reconditioned units to fit your breaker / hammer needs. From small hammers to large breakers, please contact us today or check out our inventory and availability.
From of both the top of North American to the bottom South American and all in between, Our Reputation precedes us and stands alone. You can count on Salem Hydraulics for the BEST quality units, parts and service every time.
We have and offer spare parts for hammers and breakers manufactured by: Allied, Atlas Copco, BTI, Cat, Dynatec, Huskie, Indeco, Kent, Magnum, NPK, Okada, Rammer, Rockram, Soosan, Stanley, Teledyne, Toku, T&H, Tramac, and more.
Call Us Today For Your Quality Spare Parts Quotation !